UK's Leading Virtual Cocktail Making Classes & Experiences
Our Virtual Cocktail classes offer you, your colleagues, and your friends the opportunity to learn how to make delicious cocktails from the comfort of your own home. Perfect for corporate events, bachelorette parties, birthdays, and more. Our Virtual Mixologists will make sure you have an experience full of fun and flavour! With a virtual cocktail class, you can make your very own cocktail creation using all the essential tools. Online cocktail classes are a great way to have virtual cocktail experiences; why not run a virtual class with friends or family today?
Our Online Cocktail Making packages are made to fit every budget. The good news? It doesn't matter how big or small your Virtual Cocktail Party is. Our friendly team is ready to teach groups of all sizes with an Online Cocktail Masterclass!
Learn how to make world-class cocktails with the experts while you have fun with friends, family, and colleagues. For our virtual cocktail making class, you will need a stainless steel cocktail shaker and one of our cocktail making kits, whether you are looking to make an extensive cocktail repertoire or one of our three iconic gin cocktails.
From Birthday Party Bar Hire to Virtual Bar Events and Bar Hire for Weddings, you can count on Bar Brothers Events to give you an excellent Mobile Bar Experience.
Talk to our Friendly Staff; we have plenty of Stories and Experiences to share 07753252387
Our Classes are regularly awarded 5-star reviews by our happy customers!
Online Virtual Cocktail Party
Our Virtual Cocktail Making Class is organised with care and efficiency, and we plan everything from start to finish. We'll mail our professional Bar equipment and all the ingredients to you – so you have all the tools and fruity flavours you need to host an epic Online Cocktail Masterclass! Better yet, we will also organise your video conferencing to ensure your event runs as smoothly as possible. We want you to have a night to remember! Our private virtual classes are to help you have a good time!
Our professional Bartenders are trained to run your Online Cocktail Making Class and keep everyone engaged throughout the session. Yes, that even means through the webcam, but never fear your private class will be open to just you and your guests! We aim to create an immersive and interactive atmosphere for your guests, so even when we're all mixing drinks behind a screen, we know you will have a blast no matter what! With one of the fantastic host bartenders, you will love our cocktail making masterclass.
Trusted by Corporate Brands
Our Virtual Cocktail Making Classes are led by some of the drinks industry's Best Bartenders and Flair Bartenders. We have hosted Virtual Classes for over 20,000 people across the UK. This includes leading brands like Google, Barclays, Facebook, 7 Media Stream, Amazon, Tik Tok, Red Bull, M&S and countless others. Will you be our next?
As a Virtual Mixologist Team, our mission is to provide a unique and memorable public or private class and event for you, your colleagues, friends, and family. The best part is you can enjoy it from the safety and comfort of your home!
Our International award-winning Online Bartenders will teach you everything you need to make a cracking drink. We achieve this through a fusion of simple ingredients and expert mixologist techniques. Trust us, and they taste amazing.


Perfect Virtual Cocktail Party Masterclasses
Virtual cocktail classes are a great way to break the ice with your team and friends. It doesn't matter where you are located. We will create a fun and interactive team-building experience and Cocktail Tasting Session, so you can enjoy drinks with your friends even while you're socially distancing. Learn how to make classic cocktails and discover our very own secret recipes!
A good time and a good laugh are guaranteed while learning practical Bartending skills with our Professional Mixologists. We will also share some of the most fascinating and untold stories behind our most popular cocktails! There is a story behind every one of our drinks.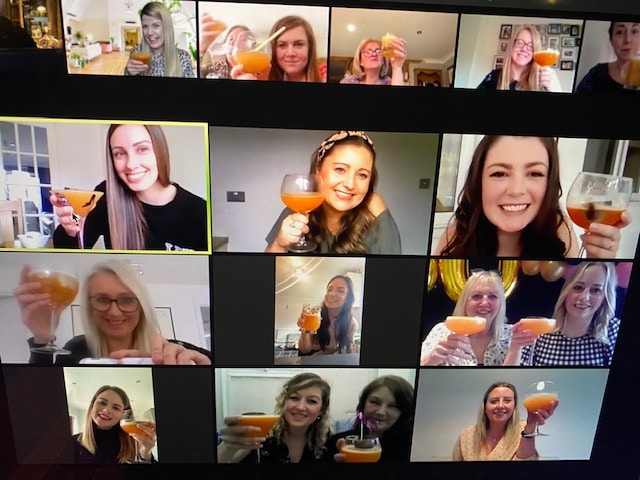 How Does Our Virtual Cocktail Masterclass Work?
Our Virtual Cocktail Masterclass comes with a diverse range of packages that are made to suit every budget. So, how does each session work?
You will be on a live stream with one or more of our professional Bartenders. During this time, you will enjoy a fantastic cocktail-making experience and have an hour of fun with your friends. Hint: The bigger the package, the better your experience!
Our Professional Virtual Mixologists lead every class using a video conferencing platform. Before your Online Cocktail Making Event begins, we will send you full instructions and a list of ingredients and equipment to every participant. This means you have everything you need to get started!
Get 10% Discount On Our New Virtual Cocktail Masterclass
We Deliver Our Online Cocktail Masterclass All Over The World
We host events in the UK, France, Italy, the USA, and many more countries on request. Our Virtual Mixologists have worked with global clients, and we hope you will be next! Our Online Cocktail Masterclasses are not subject to minimum participants. So even if your group is small, we'll accommodate you without the fuss or extra fees. Bar Brothers makes it so easy!
We also offer one-to-one Online Cocktail Making Classes! These fun sessions are the best way to learn how to make a huge list of delicious Cocktail Recipes during your session. Interested? Feel free to get in touch to cover pricing and availability.
If you want to add an extra Magic touch to your Virtual event, we can direct you to a spectacular Magic Show from Magic Interactive. You can expect a massive attraction with magic and mind-reading. This add-on is perfect if you're hungry for more!
The Bar Brothers Events team doesn't just make cocktails for a job. We make them with passion. Our expert mixologists care about making your experience unique. So, what are you waiting for? Call us to let us know your requirements, and we will make your dreams a reality!